Tech Machinery specializes in "Servicing your Machine Tool Needs." Our services include locating from our inventory, thru our expansive dealer network, or listing from machines still on location in a plant. If you have equipment you would like to dispose of, we buy, advertise, and sell it off your floor. We offer a wide variety of industrial machinery designed for production plants and metal fabrication job shops.
We are equipped to handle all types of metal working equipment for your buying or selling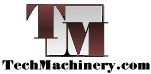 needs but we specialize in hydraulic stamping and forming presses and bending and shearing machinery. To address the aftermarket of equipment, our sales network buys, brokers and sells all types of used equipment. If there is a machine you need to dispose or are needing additional capacity, Tech Machinery can assist on these requirements and our site offers free and premium classified Ads and auction block services..
TM's in house sales staff is in constant contact with all types of manufactoring companies and dealers around the world. Let us help you locate or dispose of equipment for your company. Tech Machinery Inc. has become an alternative source for most aftermarket requirements. We welcome the opportunity to service your machine tool requirements. When we can be of further assistance, please do not hesitate to contact our office.
Are you looking to save some money by purchasing used hydraulic presses, SMC Plastic Molding Machines, industrial shears, composite DMC systems, to complete metal parts production lines? We are ready to serve you as your used plant equipment locator and buyer's agent. We also purchase or broker used plant equipment and offer a variety of services from specific machinery searches to physical inspections and rigging with shipping worldwide.
New at Techmachinery is our e-mail discussion group
Opt-in to receive our most current used machinery for sale listings!

You'll also be able to post your own machinery for-sale listings to the groups membership or send a "Want to Buy" message to members.
Press Rebuilding Repair and Relocation Services have been added to our service offerings as we recondition hydraulic and mechanical presses for buyers.
Hydraulic Presses and Equipment rebuilding Services include:
Refurbish and retrofit all types of hydraulic presses
Complete rebuilds from hydraulics to electrical control updates
Expert analysis of existing press condition and upgrade costs
Tech Machinery offers complete rigging and press relocation services to anywhere in North America as a value add service to buyers.
Press Dismantling, re-rigging and shipping prep services
Trucking by bonded carrier to any USA destination
Installation services including rigging, electrical and safety equipment.

---
Tech Machinery also offers complete hydraulic and mechanical press refurbishing, repair and relocation services for buyers of our used presses and plant production machinery. Contact Tech machinery for all your machinery moving, rebuilding and rigging needs.... one machine or an entire production plant.
Key FEE Services we can offer buyers through 3 party contractors:
| | |
| --- | --- |
| | Complete Rebuild with New Hydraulics, PLC and Interfacing services of many used machinery listed here at TechMachinery.com |
| | Let Tech Machinery partners develop a press control system that provides the very best in control of your hydraulic presses for your specific stamping or molding operation. |
| | Press Upgrades and Complete Rebuilds: Our engineering partners have over 25 years experience upgrading and rebuilding all types of hydraulic and mechanical presses. |
| | Installation, rigging of high tonnage mechanical and hydraulic presses |
| | We also can supply and the related loading and unloading equipment you need for a complete manufacturing unit. |
| | We supply a full line of used hydraulic equipment for use in your forming, molding or injection operation. |
| | Hydraulic Molding and metal stamping Press Relocation SERVICES |
| | A Complete Hydraulic and Electrical Press Control Packages for used presses to your specs and safety requirements |
| | Having a problem with downtime or looking to find a used press or to sell surplus production equipment? Call Tech Machinery Sales and use our used equipment expertise to the benefit of your company. |
Tech Machinery offers complete Hydraulic Press repair, rebuilding and upgrading services on all brands of Hydraulic presses. We specialize in Electrical control upgrades + replace press seals and gaskets + complete cylinder and hydraulic system repairs and press upgrades. Need Press Electrical CNC control upgrades and rigging services?? Just contact Tech Machinery for all your Hydraulic Press repair needs.... Call (586) 773-8822
Tech Machinery focuses on buying and selling of used metalworking presses, shears, stamping plant and plastic molding machinery. It is our only business. We concentrate on, and dedicate our time and resources to satisfy our customer's industrial machinery needs. Most manufacturing companies have no quick method of disposing of their machinery. There is no need to assign this task to one of your employees who is already overloaded with work, and who may not have the information and contacts to receive the best price when selling used machinery. We are here to help manufacturing companies with the disposal of your surplus or obsolete equipment.
We have access to thousands of machines. Because of our computerized inventory and communication system, daily contact with manufacturing plants and process facilities, and Internet hook-up; we are better able to sell your surplus machinery and to locate machines that you need.
We are always looking for quality surplus machinery equipment. Presses, industrial shears, Upenders, pipe benders, spline rolling equipment, to name a few. Everything from a single machine to an entire plant can be bought and sold through Tech Machinery Sales.
Our business is focused both in the USA and from global contacts. Experienced in handling the transfer of machinery equipment from one country to another, as well as from one city or state, to another. We offer knowledge and experience and actively seek to satisfy the needs of customers, whether purchasing or selling used machinery.
BUYING ASSISTANCE – USED HYDRAULIC PRESSES
Are experience performing press rebuilds makes us uniquely qualified to assist you in finding used presses that meet your production needs and budget. Our used press locator service works to keep up on the best used presses available for immediate sale. We offer a full line of operational and non-operational press inspection programs to help when you are considering the purchase of a used press. These inspection programs include computerized operational monitoring, budget estimates for anticipated repairs as well as required press, electronics and hydraulics upgrades, rigging, transportation and press startup estimates.
SELLING ASSISTANCE – USED HYDRAULIC PRESSES
We work with a national network of press brokers and resellers to help move your excess plant production equipment. We help you get top dollar for your used press. Tech Machinery Sales will get rigging and transportation pricing for prospective buyers... up front.. to help overcome costly extras so we can quickly sell the press for you.

SAMPLE: 600 Ton Danly 4-Point Eccentric Geared Press new in 1980 and model# SE4-600-144-96 in great working condition Call Tech Machinery for price.

Capacity: 600 Ton

with

Stroke: 30"
Shut Height on Bed: 62.5" (SDAU)
Slide Adjustment: 10"
Bed Area: 144" L-R x 96" F-B
Slide Area: 144" L-R x 96" F-B
Speed: 20 SPM

w/

Windows: 36" Wide
Floor to Top of Bed: 30"
Equipped With:

Flush Floor Design
Air Clutch & Brake

with

T-Slotted Slide & Bolster Approximate Dimensions: 320" L-R x 146" F-B (Top of Press) x 227" Above Floor
236" L-R x 96" F-B (At Base of Press)
It's a Buyer's Marketplace in the used plant production equipment marketplace in the USA. Tech Machinery Sales is your advocate for getting the lowest price on excess machinery due to bankrupcy or distressed sales of viable production equipment. The Global economy is being fueled by putting this production machinery back into use in USA growth areas and worldwide industrial cities.